Growing up, I had my share of challenges. First, I was very shy and introverted. I was very slow to learn how to speak and at one point was diagnosed (incorrectly) with Autism. I eventually learned how to speak with my father's efforts and speech therapy. This combined with being overweight made me a target for bullying. For reference, I was 130lbs in the third grade, so I was a BIG kid, lol! As a result, I fought every year in grade school. Fortunately I was always the bigger kid, so after winning a couple of fights I would be good for the rest of the year. ?
I didn't have any real goals, and I had no strong ambitions outside of finishing school and becoming an engineer, which was the family trade. My circle of friends was very small – my brother. I had a few other friends, but they were all short term. My family moved around quite a bit (I went to 3 elementary schools, 3 middle schools, and 2 high schools) so besides my brother, I didn't have a friend longer than a couple of years.
All of that would change in my sophomore year of high school, when I followed my brother into wrestling at Killian High School. My coach, Tirso Valls, was a ruthless man that had no time for weakness. I owe him greatly for transforming me into the man I am today.
After a successful wrestling career in high school, I got into NHB (No Holds Barred – the predecessor of MMA) after my brother. We trained with Master R.I. for about two years before beginning our own grappling club out of a Tae Kwon Do school, Avellan Grappling. It was a small group of 10 students that were hardcore – not afraid to take a beating. It was more of a fight club that a school. ?
In 2001, my brother and I opened the Freestyle Fighting Academy (FFA). I was 19 and my brother was 20 years old at the time. We had no money, no capital, no business plan, and no master. We just had a dream – to be the best martial artists we can be. The beginning years were very rough, and we struggled through many hardships before we saw any return on our investments. There were many times that we thought about closing shop and quitting, but our will to succeed was too great.
Marcos had the great fortune of meeting Master Lloyd Irvin, who become a mentor to my brother. He imparted invaluable information on how to properly run a martial arts academy and almost overnight the FFA become a sensation. From 60 students to 100's, the FFA grew to become the largest academy in South Florida. Our Miami headquarters has over 10,000 square feet of space and is open 24 hours a day, seven days a week.
I have had the great honor of competing all over the world and have battled the greatest champions in grappling. I hold victories over Brazilian Jiu Jitsu Black Belts Rafael Lovato Jr., Tarsis Humphries, Amaury Bitteti, Roberto "Cyborg" Abreu, Rener Gracie, and Alexandre "Xande" Ribeiro. I have been featured in Grappling Magazine multiple times and have been featured in the local news as well. My biggest accolade was taking a bronze medal at the ADCC Submission Wrestling World Championships, the equivalent of the Olympics in submission grappling.
I have also fought in Mixed Martial Arts. I had an unofficial record of 5-3 (before MMA was sanctioned), and a professional record of 2-1. My most notable fight was in BodogFIGHT Costa Rica, where I stepped in short notice to face French journeyman Anthony Rea, in a bloody battle that I ended up winning by TKO. You can watch that fight by clicking here.
After competing for over 16 years, I decided it was time to focus on other pursuits. I have since developed several instructional systems that have a world wide impact on our sport. The Kimura Trap System is by far my greatest contribution to the Martial Arts, having sold thousands of copies world wide. It has been used in pretty much every major grappling and MMA event, including the UFC. I have had the pleasure of teaching seminars all over the world, and working with top athletes to refine their skills.
I'm currently located in the fight capital of the world, Las Vegas, Nevada, and working with athletes from Drysdale Jiu Jitsu, 10th Planet, and the UFC Performance Institute. I am regularly adding content on a weekly basis to this blog and my YouTube channel, but to stay up to date with me and get new videos daily, you will want to visit my membership site FFAcoach below: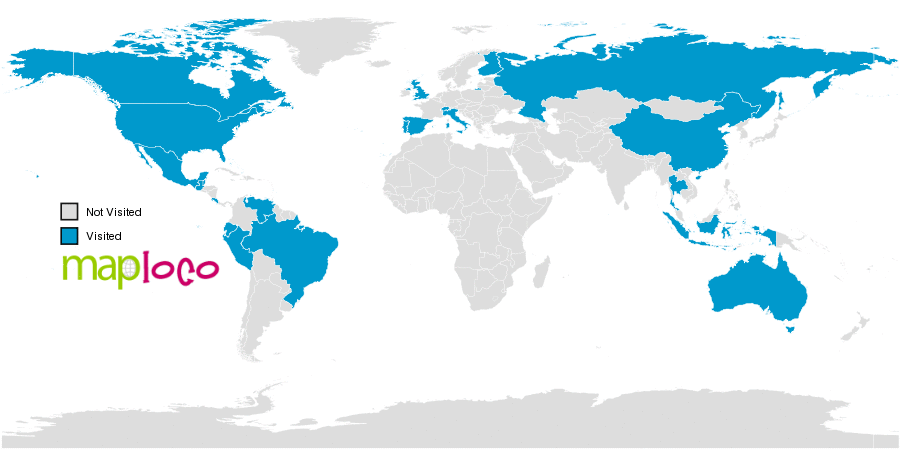 Create Your Own Visited Countries Map